Did you know that 70% of marketers reported their plan to increase visual assets in 2015? That's a lot of marketers, and a lot of visual assets.
Jason Korman, on behalf of the worldwide digital community, attests: People are looking for simple, less complex, communications — and are overwhelmed by data and info. So in order to make our communication effective, marketers turn to visuals. Not only are these fun to create, they are also far more effective in delivering your messages.
But once you to decide to up the visual, how can you know what's currently trending and has higher chances of getting your users' attention? How can you choose the right tools to use and identify which social channels work best?
Visual Content Works Better
Data Visualization
39% of B2B buyers in 2014 accounted for frequently sharing infographics on social media.
In a study that was discussed in this TED Talk, 3 groups of economists were asked the same question yet each group was presented with different levels of visualization:
Group 1

  was given a standard statistical analysis of the data; 72% of these economists got the answer wrong.
Group 2 Another group was given the statistical analysis, and a graph; still 61% of these economists got the answer wrong.
Group 3 was given only the graph, and only 3% got the answer wrong.
Conclusion: visualizing data can be less misleading than using the raw numbers and statistics!
Types of Visual Content
Images
Infographics
Presentations and slideshows
Memes
Visual note taking: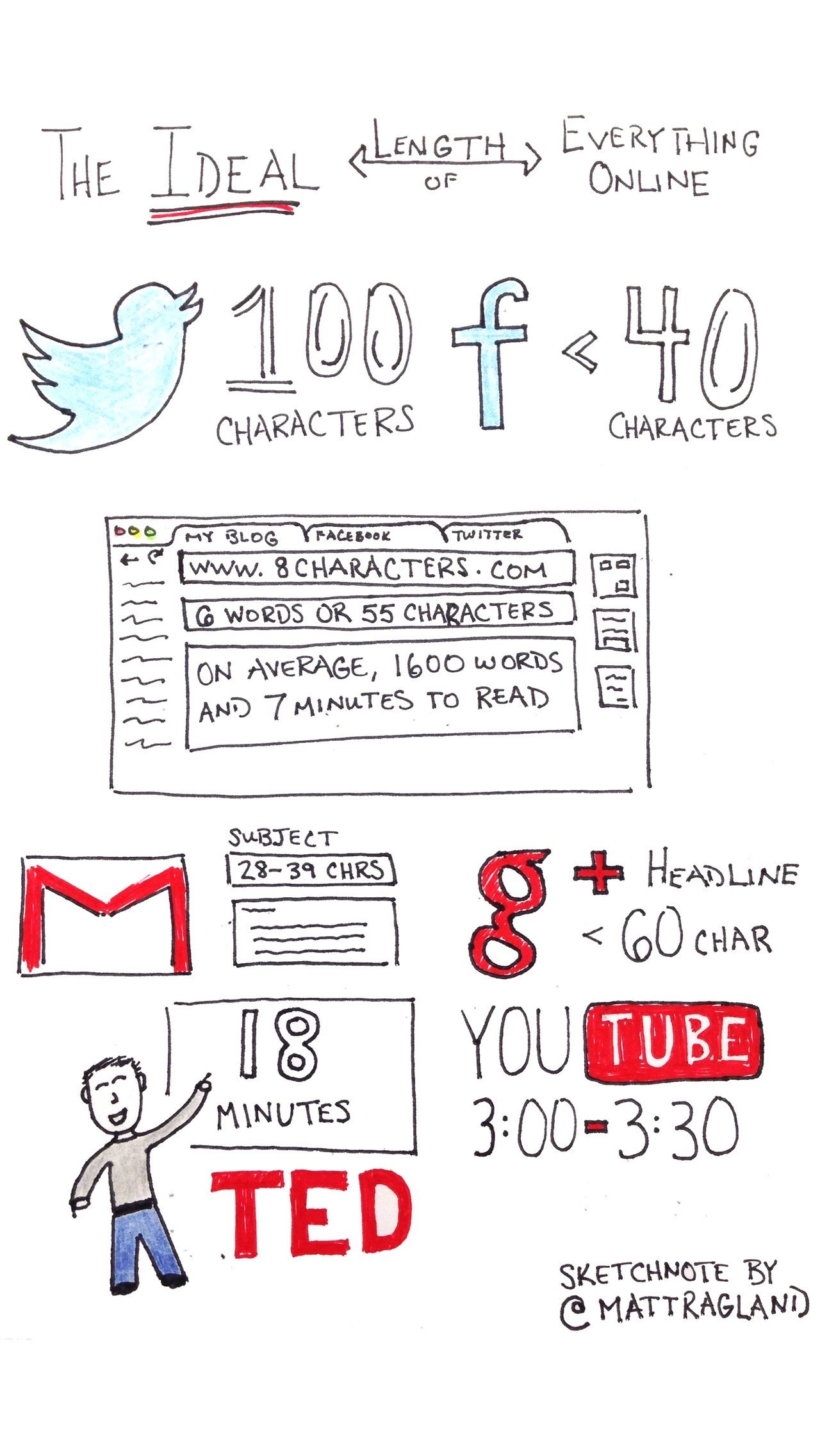 (source: mattragland.com)
Comics
Maps
Graphs and charts
Dynamic widgets
What's Trending?
Did you know that 63% of social media is made up of images? In fact, Software Advice found thru their research that images are the #1 most important factor in optimal social media content.
For Twitter alone, tweets with images receive 150% more retweets.  Twitter's media blog shows tweets with photo URLs give users a 35% increase in retweets, and video URL's give 28%.
In terms of Facebook, in one year, they saw a 75% global increase in video posts and a 94% increase in the U.S alone. Globally, the Facebook Newsfeed has seen a 3.6x increase-per-year from both people and brands. Since 2014, there have been  an average of 1 billion video views per day on Facebook (Facebook blog).

2015's Most Wanted Visuals
Video Trends : Most Searched for topics on Google are:
– 57, 275 searches for Animated videos
– 35,238 searches for Slow Motion videos
– 34,805 searches for Aerial videos
– 27,167 searches for Fashion videos
– 26, 890 searches for Time Lapse videos
Social Media Campaign Trends
If you look at visual content that was shared throughout social media channels in 2015, the most common themes are: reflection imagery, floral imagery, macro lens imagery, watercolour style, nature themed, collection of objects, soft light imagery.
Search Engine Searches
When searching for content on search engines, this is what people have been looking for most (according to Shutterstock):
– Text on a backdrop of blurry backgrounds has increased in searches by 144%
– In 2014, outlined icons, known as 'line icons' increased by 921% in their searched-for rate.
– 66% more searches included the term "top view" when hunting for visuals.
Make Sense of it All
Beneath the visual stats above that celebrate visual content's popularity, research has sought to answer specifically why visual content has seen such fame. Among the many given reasons, here are some we hand-picked:
For starters, as a result of the visual content trend, Curata points out that 71% of marketers increased their content marketing budget in 2014. In other words, now we can foot the bill!
And so, what could be better spent on than visual content? From a glance alone, viewers derive abundant information from photos, interactive videos, comics, and dynamic infographics.
Instant engagement, and minimum effort? The average Joe is good to go.
1. Born to be Visual
Many attribute the human brain's innate functionality as a key reason behind visual content's proven success records. Thanking Mother Nature herself, Richard Eaves on Steamfeed blog says our brains are programmed to instinctively see the visual world and interpret it, rather than derive information from processing print — a man-made invention which isn't in the organic blueprint of our human skill set.
2. Catch me on my Mobile
YouTube, also known as the world's 2nd largest search engine, concluded from their statistics that mobile consists of 40% of their global watch time. Yes, we know, YouTube is widely used, but what we can also take from this stat is: how much of our time is spent  mobiling, rather than computing. And when viewing content on a portable, on-the-go apparatus, brevity via images rather than focused reading takes the cake.
3. The Social Network
AOL Research tells us that in 2011, 27 million pieces of online content are shared online every day.
For branding alone, social media has brightened the lives of many. Just a month after Facebook made their timeline feature available for brands, engagement with photos and videos jumped up by 65%.
Seemingly, this jump was completed by a hop and a skip over to Instagram, who Facebook bought as a result of this stat (for $1 billion). On its own, Instagram generated more referral traffic to websites than LinkedIn, Google+ and YouTube combined (Steamfeed).
4. Seeing is Believing
67% of online consumers consider clear and detailed photos to override product information or customer ratings as decision fuelers. Free to make independent assumptions about your product, people are happy to engage with real imagery rather with than word-of-mouth.
5. Eye on the Ball
Thanks to social listening tools, data analytics progression, and marketing automation, we can now account for our visibility and measure the effectiveness of our content campaigns. Because we can stay at the tail of nearly any content we put it out there via analytics and media metrics, we're more likely to distribute when we can guarantee to see how it performs.
And with marketing automation abilities, we can now be more efficient and systematic about our content sharing — targeting its address and how it gets there. Because content delivery has upgraded itself in sophistication alone, we maximize its potential; looking for the most productive way to present it (and that would be visual).
6. Persona Development
Data is being used to understand our target markets. One way this is happening is with buyer personas — understanding potential customers based on characteristics, and adapting content to tickle their fancy. So when choosing which type of visual content to use, think about your potential buyer – is he or she analytical? Which colors will appeal to them?
Visuals can be powerful if used the right way and especially when created with the buyer persona in mind.     
Tools of the Content Marketing Trade
Final Thoughts
While the options for creating and for using visual content are endless, the benefits are, too. Books are always more exciting when they have pictures, and cyberspace agrees. Adding a visual element whenever possible will accelerate your content at blazing speed. Why not take the fast lane?
What is your experience with visual content? Share with us in the comments below!